Drop By For Pizza Night July 31st, 2020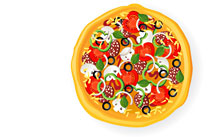 Available on Friday, July 31st.
Call to place your order by 10 am for pickup between 3 – 6 pm.
Call to preorder today 510-649-0869!
PIZZAS
Order HALF Baked OR FULLY Baked
All pizzas are GLUTEN FREE.
You won't even notice the difference!
Bianca
Mozzarella, fresh mozzarella, parmigiana, roasted garlic, fresh basil and red pepper flakes
10' Pizza $15
12' Pizza $19
Veggie Lover
Marinara sauce, fresh mozzarella, cherry tomatoes, fresh basil and arugula
10' Pizza $15
12' Pizza $19
Pepperoni
Marinara sauce, pepperoni, mushroom, mozzarella and parmesan
10' Pizza $17
12' Pizza $22
Pesto Chicken
Pesto sauce, chicken, cherry tomatoes, onion, mozzarella and parmesan
10' Pizza $18
12' Pizza $23

SALADS
Summer Salad
Mixed greens, grilled peaches, fresh mozzarella, toasted hazelnuts and red onion; white balsamic dressing
$14
Arugula Salad
Arugula, cherry tomatoes, corn, avocado, feta cheese and pine nuts; basil vinaigrette dress dressing
$14