Join Us June 27th For Our New Thursday Dinners!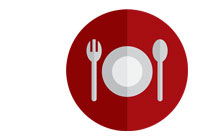 Click for the Menu! You all asked for dinners to return and to bring back some of our most requested meals along with weekly specials. Every Thursday, we will be featuring your favorites including Ann's Classic Meatloaf, Chicken Pot Pie, Mom's Mac 'n Cheese, Grilled Salmon, along with changing weekly specials.
Dinner Thursday Night, June 27th
5:30 – 8:30 p.m.
Starters
SOUP OF THE DAY:
Cup: $4.75       Bowl: $6.00
CRUDITE PLATE
House made bagel chips and hummus served with
carrots, celery and snap peas
$7.00
BABY GREEN SALAD
A combination of tender baby greens with ribbons of carrots, cherry tomatoes
and radish with a lemon-oregano vinaigrette
$8.25
ROASTED BEET & FENNEL SALAD
Roasted red and gold beets, marinated fennel, and baby lettuces, with salty-sweet pecans,
goat cheese and dressed with a sherry-mustard vinaigrette
$10.00
Entrées
GRILLED SALMON
 Finished with a lemon, caper beurre blanc and served
with sautéed garlicky green beans, and mashed potatoes
$22.00
SUMMER RAVIOLI
 Fresh lemon ricotta ravioli's, sautéed with zucchini, sweet corn,
cherry tomatoes and fresh herbs in a light pesto sauce
$16.00 
ANN'S CLASSIC MEATLOAF
Made with Niman Ranch beef and served with mashed potatoes, gravy and sautéed vegetables
$17.00
MOM'S MACARONI & CHEESE
Macaroni noodles in a rich cheddar cheese and béchamel sauce, served with sautéed
$14.75
CHICKEN POT PIE
Free-range chicken, root vegetables and peas in a creamy sauce, baked under a buttermilk biscuit
$14.00
BACON AND CHEDDAR BURGER
Niman Ranch beef cooked to order and finished with applewood smoked bacon and cheddar cheese.
Served with lettuce, tomato, red onion, house made bread & butter pickles and French fries
(The beef burger can be substituted with a Victory burger or a Vegan Garden burger)
$14.00
Sides
   French Fries $4.00
Mashed Potatoes with gravy $5.00
Sautéed Vegetables $6.00
Quesadilla $5.00