Join Us For Pizza & Burger Night Sept 11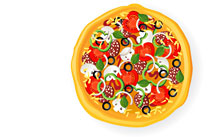 Available on Friday, September 11th 
Call to place your order by 10 a.m. for pickup between 3 – 6 p.m.
Call to preorder today 510-649-0869!
PIZZAS

Order HALF Baked OR FULLY Baked
All pizzas are GLUTEN FREE. You won't notice the difference!
Margherita
Marinara sauce, fresh mozzarella, cherry tomatoes, fresh basil and arugula
10' Pizza $15
12' Pizza $19
Pepperoni
Marinara sauce, pepperoni, mushroom, olives, mozzarella and parmesan
10' Pizza $17
12' Pizza $22
BURGERS
Beef Hamburger – Turkey Burger – Beyond Veggie Burger
All burgers served on a brioche bun with lettuce, tomato, onion and pickles. Your choice of French fries or house salad.
$14
Add ons:
Cheddar, Jack or Swiss Cheese $1
Bacon $1.50
Avocado $1.50
Grilled Onions $0.75
Sautéed Mushrooms $1