Join Us For Taco Tuesday, July 7, 2020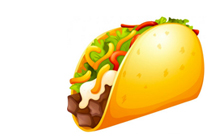 Orders must be placed by Tuesday, July 7th by 10 a.m.
for pickup between 3-6 p.m.
Appetizers
Fresh Peach Salsa with house-made tortilla chips
$10
Mexican Salad
Mixed greens, cotija cheese, pumpkin seeds, cherry tomatoes,
green onion and corn with a creamy cilantro dressing.
$12
Shrimp Quesadilla
Served with sour cream and salsa
$15
Chimichanga
Deep fried burrito with shredded chicken, black beans and cheese.
Served with lettuce, salsa and sour cream.
$13
Dinner Entrées
Fajitas
Your choice of meat mixed with bell pepper and onion:
Steak
Chicken
Shrimp (+$2)
Vegetarian
All served with pico de gallo, guacamole, sour cream, fiesta rice,
whole pinto beans and tortillas
$24.50
Drinks
Watermelon Agua Fresca (non-alcoholic)
$10 quart
Call 510-649-0869 and pre order today!