New Hours, One Less Day and a New Dinner!!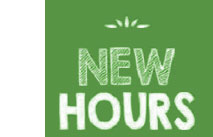 We have changed our closing hours to 2:30 p.m. each day. We are also closing every Tuesday for breakfast and lunch in order to give our staff a much needed break and to allow them to prepare for our New Thursday Night Dinners!
You all asked for dinners to return and to bring back some of our most requested meals along with weekly specials. Every Tuesday, we will be featuring your favorites including Ann's Classic Meatloaf, Chicken Pot Pie, Mom's Mac 'n Cheese, Grilled Salmon, along with changing weekly specials.
Please spread the word about the new hours and new night! See our other news bulletin featuring our first menu for June 13th.
-Rick & Ann