Vietnamese Holiday Dinner Pop-Up 12-22-18
Rick & Ann's Restaurant Presents
A Vietnamese Holiday Dinner

Saturday, December 22, 2018
Once again, Rick & Ann's has invited Eating Saigon! to present a fun and delicious Vietnamese Holiday dinner at their Berkeley restaurant.
Appetizer
Gỏi – Salad with Viet herbs & ginger sauce
Nấm Nhồi Thịt – Pork-stuffed mushroom
Tôm Xào Me – Grilled shrimp with tamarind sauce
Entrée
Thịt Kho Trứng – Caramelized pork ribs & duck egg with pickled greens & rice
Dessert
Chè Bắp – Vietnamese corn pudding & coconut milk
Wine is available as well. If you wish to bring your own wine, there will be a #25 corkage fee.
Saturday, December 22, 2018

Two Seatings:
5:30 p.m. & 7:30 p.m.
$40 per person
(Drinks and Gratuity Not Included)
Bio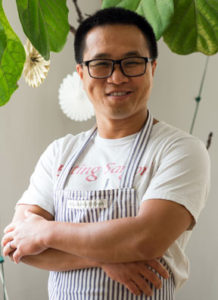 Rick and Ann's is proud to present Vietnamese chef Hai for an evening of Eating Saigon. Many years ago, Hai took over the 60-year-old restaurant, Dong How Xuan that his grandmother started in Vietnam. Since moving to the Bay Area, Hai and his partner Joe started a popular food blog called EatingSaigon.com. He is offering some of his favorite Vietnamese dishes on this evening out. Please come join us for a fun and delicious night out!
A credit card is required to hold your reservation.
Seating #1 at 5:30 p.m.
Seating #2 at 7:30 p.m.
Call Rick and Ann's at 510-649-8538 for Reservations.