Weekend Specials for June 27th & June 28th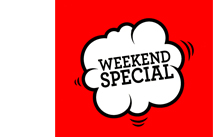 Call Ann's Catering to pre-order at 510-649-0869.
Appetizers
Crostini
Crostini's topped with hummus, grilled summer vegetables and fresh basil
$12
Roasted Cauliflower and Broccoli Salad
Oven roasted florets of broccoli and cauliflower with toasted pine nuts in a lemony caper dressing
$12
Fried Goat Cheese
Crispy fried goat cheese balls served with marinara sauce
$13
Smoked Salmon Dip
House smoked salmon dip with dill, capers, red onion and lemon;
served with baguette, cucumber and bell pepper for dipping
$14
Dinner Entrée
Cajun Snapper
Pan roasted cajun rubbed snapper served over a
lemony cous cous with cherry tomato and zucchini.
Served with a frisee & spring mix salad with citrus vinaigrette.
$26.50
Chicken Marsala
Pan roasted chicken breast in a creamy marsala wine sauce with mushrooms served over fettucini and topped with parmesan cheese. Served with a house salad.
$26.50
ASK ABOUT OUR DESSERT SPECIALS!