Weekend Specials for September 12 & 13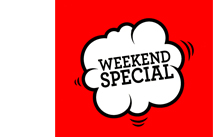 Call to preorder today 510-649-0869!
Appetizers
Garlic Bread
Fresh slices of baguette topped with butter, garlic,
oregano, salt, pepper and parmesan
$8
Antipasto
Prosciutto, salami, marinated artichokes, marinated olives
and roasted mini sweet peppers
$15
Dinner Entrées
Spaghetti and Meatballs
House made turkey meatballs, marinara sauce and spaghetti noodles topped with shaved parmesan cheese.
Served with a side house or Caesar salad.
$19.50
Spinach & Ricotta Cannelloni
Fresh pasta rolls stuffed with spinach, ricotta and parmesan.
Topped with marinara sauce and mozzarella.
Served with a side house or Caesar Salad
$19.50
ASK ABOUT OUR DESSERT SPECIALS!