Order Your Thanksgiving Specials Today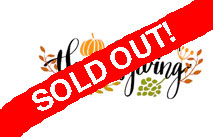 Wednesday, November 23rd between 12 p.m. and 5 p.m.
Orders MUST be placed in advance.
We will sell out so get your order in as soon as possible!
To place your order, e-mail us at info@anns-catering.com.
Appetizers
Lobster Bisque
$25 quart
Mini Sweet Potato Biscuits
$20 dozen
Traditional Deviled Eggs
$20 per 10 halves
Phyllo Pastry Triangles
Butternut squash, kale & Asiago
8 for $20
Cherry Salad
Mixed greens, arugula, radicchio, dried berries,
dried cranberries, toasted hazelnuts, ricotta salata and
a cherry balsamic vinaigrette dressing on the side.
$18
For the Feast
Cranberry Sauce
$18 pint
Garlicky Green Beans
$25 quart
Honey Roasted Fancy Baby Carrots
$30 quart
Red Skin, Cream Cheese & Chive Mashed Potatoes
$28 quart
Herb Focaccia Stuffing
$30 quart
Whole Roasted Free Range Mary's Turkey
$155 (14 to 16 lb)
Dessert
9″ Baked Pumpkin Pie with pastry crust
$30
Maple Bourbon Whipped Cream
$10 pint
Individual Dinner Entrée
Free-range Mary's sliced turkey breast, mashed potatoes with gravy,
herb focaccia stuffing, garlicky green beans, fancy baby carrots,
cranberry sauce and an individual pumpkin tart with a pastry crust
$50
Ordering multiple entrées? Can be ordered as family style
(each food item packaged together.)
Please Note:
All items are oven-ready and will require re-heating.
Baking instructions will be provided with each item.