The Restaurant Will Be Closed July 20 – July 29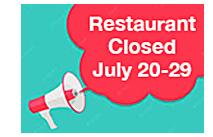 Due to staff vacations the restaurant will not be open during the week of July 20th through July 29.
However, Ann's Market, will be open and fully stocked during this time. Ann's Market features a wide selection of pantry items, including our house specialties that are frozen or refrigerated. We have salads and sandwiches made daily and we will be making extra each day during the closure. We also have fresh produce, dairy, fresh bread and house-baked goods.