Close For Indoor Seating Until Further Notice!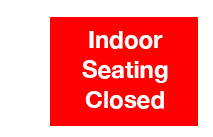 Due to Staffing Shortages from the recent surge in the new variant, we will not be seating for indoor service until further notice.
We will be seating the four tables outside.
We are very sorry for the inconvenience. We hope to be back to full service soon.